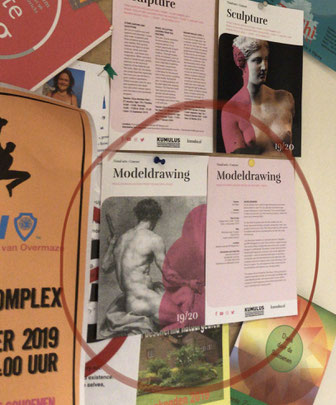 MODELDRAWING LESSONS FROM THE MASTERS
So you always had a wish to start drawing but you never knew where to start? Or you did start but failed to get proper likenesses in your drawings? If so, I'm happy to help out and offer you this drawing program, which will boost your drawing skills.
On the basis of works from the old masters we will study important drawing concepts; proportion, tone, line quality to name just a few. This will provide us with a good foundation and serves as preparation for the next step: life drawing.

Just like great masters as Leonardo da Vinci, Raphaël and Michelangelo our main focus will be: model drawing. The human body is to date still one of the most complex designs to understand. Therefore: lessons learned from studying the figure are universal, and can be applied to any project – such as drawing landscapes or portraits. 
During the year the drawing lessons will alternate with sculpture lessons to improve one's understanding of the form in a space. You will experience that combining the two disciplines will improve your drawing skills. For more information about the course and/or enrollment:
https://www.kumulus.nl/inschrijven/50132894/modeldrawing-lessons-from-the-masters
Hope to see you there!
Ilse